I got the new
Dick Blick
holiday catalog today and was consumed by an intense longing for everything in it, RIGHT NOW. Never mind that I don't need a whole $600 set of pastels, I only need a few select ones and anyway I don't use the ones I have, look at the colors. And they come in such a nice box. Never mind that I don't and have no intention of starting to practice sumi-e, the set is so pretty.
After I stopped hyperventilating I came to my senses and realized that what was really cool was the tree-topper on the cover, a 5-pointed star made of gold metallic Prismacolor pencils and tinsel.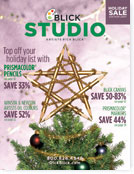 I think this is very doable for Christmas this year. I'd use multicolored pencils since they'd be more festive and also much cheaper since I can find sets at the Dollar Tree or Big Lots. Then just cut them in half, sharpen both ends, use a dab of hot glue to hold them together and wrap the joins with tinsel or brass wire for strength. There you go!